​AN IMPORTANT MESSAGE FROM THE TRUSTEES OF THE CROSSNESS ENGINES TRUST.
Much of the funding needed to conserve the Crossness Pumping Station comes from visitors to the site. The pandemic and subsequent lockdowns and restrictions have meant our income for the last two years has been severely reduced.
Please consider making a donation to help us to maintain this unique and magnificent heritage site.
Built in 1865 by Sir Joseph Bazalgette as part of Victorian London's sewerage system, Crossness Pumping Station is a Grade 1 Listed industrial heritage site and a masterpiece of 19th-century engineering, architecture, and design.​
"A ballet of rod and pistons"
COVID-19 status
In line with the Government COVID-19 Roadmap, Crossness Engines will restart its programme of events from Monday 17th of May. These will be shown on our calendar and advertised through Eventbrite. The first event – an open day on Sunday 23rd of May - has been published. More will follow in the next few days.
Ways to Visit Us
From Open Days where you can explore at your leisure to structured Guided Tours, there are many ways to see the Crossness Pumping Station. Check out our Visitors' Page for more information.
Get crafty with this fun activity
Find out how to make a portrait head of Sir Joseph Bazalgette, the Victorian engineer who built London's first sewer system - including Crossness.
Watch the 10 minute video on how to create the head from recycled items.
COMING SOON!
Our site may be temporarily closed but thanks to support from the DCMS Culture Recovery Fund, we are busy producing a new exhibition and guided tour to inspire and entertain you online.
Crossness and Estuary 2021
As part of Estuary 2021, on 13th June we are hosting Outfall – a research project commissioned by TACO! which explores flows of waste, production, and biological matter within London and the Thames Estuary.
Artist Natasha Bird presents a response to Crossness as a sculptural reading display. Through archival research, sculptural and audio experiments, the project explores the city as both body and ecosystem. With Natasha, we will also present a hands-on family activity.

The Toilet Timeline – online exhibition.
From a hole in the ground to the vacuum assisted toilet on the space station, the Toilet Timeline will illustrate the key developments in toilet design and technology – past present, and future. This new exhibition tells a fascinating story of human ingenuity and innovation. Fearless explorers needed to test this exhibition – please click here for more information
Online Guided Tour
Unable to visit in person? You will soon be able to join our knowledgeable tour guides and take an online guided tour to discover the splendour and significance of the Crossness Pumping Station. More fearless explorers are needed to test this tour as well. Click here for more information.
Heritage
Compass
Organisation
Cause4 launched Heritage Compass - a brand-new Business Support Programme funded by the National Lottery Heritage Fund in 2020. Working with partners Creative United and the Arts Marketing Association, this new programme is designed to grow resilience and invigorate the heritage sector across England.
Heritage Compass will be working with 150 small or medium heritage organisations from across the country over two years The programme will allow a wide range of heritage organisations to build their resilience through working together, as well as developing their individual strategies. Organisations will gain tailored training, mentoring and peer learning, developing strategy and moving forward as part of a dynamic new cohort of Heritage organisations.
The Crossness Engines Trust applied in the second round in December 2020 and was successful in obtaining a place on the programme. The first formal training sessions start in February this year and we will move through the programme within a cohort of around 25 other organisations.
The programme will help the Trust in skills development, growing operational knowledge, strengthening leadership, diversifying funding and identify solutions to financial and environmental threats.​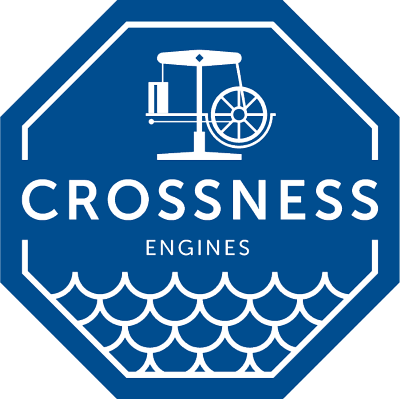 PRESERVING AN INDUSTRIAL CATHEDRAL