Mike Jones, Company Secretary and acting Chair
I joined the Trust about twenty-five years ago, whilst I was working as an Information Systems Manager for a government agency, having spent most of my working life in IT, including working with the earliest personal computers. I started working on a restoration project but soon gravitated towards areas of work that reflected my training in both systems analysis and project management and I've been very involved in putting together bids for all of the major funding the Trust has received. I also deliver talks on Crossness to groups, both on-site and elsewhere. I have to admit that, prior to a visit to a Garden Rail exhibition in the Boiler House I was not aware of Crossness or the significance of Joseph Bazalgette. Almost as an afterthought, I said to my wife just before we were leaving the exhibition that I wanted to have a quick look at the engines. I did and was hooked. Even now walking into the Beam Engine House reminds me of how I felt on that first visit – amazed at the quality of engineering and the building. Subsequently learning that Bazalgette's system continues to serve London and that his work saved the lives of tens of thousands of Londoners has only increased that amazement.
Peter Nelson, Vice Chair
Albert Neher
I was invited onto the Crossness Engine Trust board in 2013. I was then Head of Objects Conservation at the National Maritime Museum, where we had a problem that we hoped Crossness might be able to help us with (which they did very well!). Invited for a visit, I walked into this cathedral of cast iron. I was delighted when they asked me to join.
My background is furniture and wooden objects conservation. Following an MA in Conservation from the Royal College of Art, I practiced at the Victoria and Albert Museum, NMM and the Metropolitan Museum of Art in New York City and I am currently Conservator Emeritus at NMM.
I have always been fascinated by Victorian era technology and all things cast iron for which the Crossness site is a gold mine. These massive engines, awe-inspiring in their scale and beauty, and the human endeavour that envisioned the solution and brought them into being are truly wonderous. Being with the volunteers, who clearly feel the same way, is such a pleasure.
Alison Williams, TWUL
I joined the Trust having been requested by Thames Water to act as a representative on the Crossness Engine Trust Board. I had previously visited the site and been involved from a Thames Water perspective as the Area Operations Manager for the area including Crossness Sewage Treatment Works. When I was introduced as a potential Trustee I was very impressed by the involvement of so many dedicated volunteers, working to maintain the site and refurbish the engines. I have worked for Thames Water for most of my career, and for a large part of this in the wastewater treatment part of the business, involved at both Crossness and Beckton STWs, and so the historical link back to Sir Joseph Bazalgette and the enormous legacy he created resonates strongly with me. My career has brought me to a role now working on the Thames Tideway Tunnel – which is considered to be a project on a grand scale building on that Bazalgette legacy to protect London and the River Thames from pollution. As well as a science degree and a masters degree in water pollution control, I have qualifications in management and in health and safety. In my role in the Trust I have more recently taken a leading role in health and safety, and I believe we have made good strides in ensuring the site is a safe place for all volunteers to work and spend time. We have faced many challenges over the last few years and I am always impressed by the dedication of the Crossness Engine Trust to face those challenges and work through them to improve and build on the offering of the site to the community and to interested parties and individuals around the world.
Greg Warner
I started volunteering at Crossness in Nov 1995 and in the main have cleaned up and then painted (with others) a lot of the cast iron around the Prince Consort engine, and the windows both on the Ground and Beam Floors. I have also worked in the Boiler House (ground floor and basement), Fitting Shop, Valve House East, and Economiser House.
Since 2000, I have been the Trust's Membership Secretary (from 207 members to currently over 500). In 2011, I was appointed as one of two Joint Volunteer Co-ordinators and in 2015, became a Member of the Works Committee and a Trust Board Member, now doing the Minutes for both of these Meetings. I circulate The "Record" to our members and recently, the new Crossness Chronicle to our volunteers.
On Open Days, I seek to engage new Volunteers and Trust members, and to collect Gift Aid payments and declaration forms prior to listing them for the claim to HMRC.
I have volunteered for almost all of my life (and sometimes being volunteered!) and my motivation is "to make a difference", for which Crossness gives me enormous scope. It is such an inspiring place.
Having also been an active member of another local organisation for 50 years, I (as an ex National Serviceman) was chosen as Greenwich Veteran of the Year 2016, In the 2017 New Year's Honours List, I was awarded a British Empire Medal for voluntary services to Learning Disability and Heritage (having then been at Crossness for 20 years).
Kevin Ridley
I think Engineering is in my blood. I grew up with an Engineer, I read Mechanical Engineering at university and spent most of my working life in this field. I started working on nuclear reactor design and then moved to the refrigeration industry where I stayed almost 40 years covering design and project management. The refrigeration contracting involved substantial building works and services where we operated as both Principal Designer and Principle Contractor. This, together with my knowledge of pressure systems design, complements the Crossness environment.
I've known Crossness for many years as my father was a founding member of the Trust and I joined the Trust as a volunteer in 2015. At first, my time was spent preparing and painting various buildings and items of equipment around the site before giving some assistance to the RANG railway; I then took on Health & Safety duties and more recently, became a member of the Board of Trustees.
I enjoy drawing and I'm creating electronic drawings of the site and buildings charting its history through each of the changes that it has gone through. The scale & grandeur of the Victorian engineering & buildings never ceases to amaze me and I'm proud to be part of its future.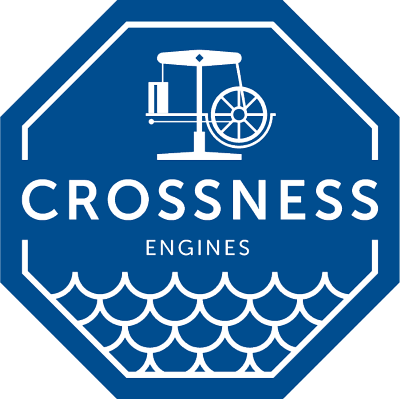 PRESERVING AN INDUSTRIAL CATHEDRAL